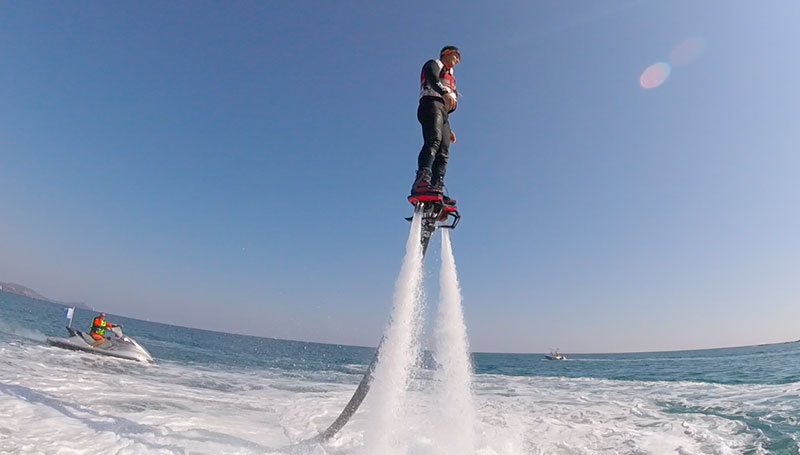 Sport 100% made in France, the Flyboard will make you take flight and float above the waters, giving you an unprecedented feeling of freedom! For everyone from 16 years old, come and discover a unique sensation at the Port of Saint-Aygulf at the house of Jet Fun Escape. Whatever your level, our instructor will be able to accompany you to make you spend an exceptional moment that will remain engraved in your memory. Impress your friends by trying out acrobatic tricks several meters high and slicing through the waves like a dolphin. 
Jet Fun Escape is ideally located to do this activity. You will be able to start immediately thanks to the depth of the waters at this place. Your family or friends can capture your most intense moments so that they can become your fondest memories.
Come and test the FlyBoard
in Saint-Aygulf
The principle is simple: a board equipped with two nozzles connected by a 23 meter hose to the turbine of a 215 hp jetski. The powerfully expelled water lifts the flyboarder and, exceptional sensation, you fly above the waves, like a superhero. Quickly accommodated, you will allow yourself artistic figures or dives. Depending on your experience, the instructor can make you take off up to 20 meters high.
After a briefing and under the guidance and supervision of a state-qualified instructor, you will experience an unforgettable moment. You will be equipped with a life jacket, a wetsuit before being installed in the shoes of the flyboard.
Beginner or initiated, young or less young, woman or man, come and discover the exceptional sensations that this fantastic machine will leave you with. Perfect for an EVJF, EVG, a birthday or just the desire to discover new extraordinary sensations. Be sure to leave with an unforgettable memory at Jet Fun Evasion at the port of Saint-Aygulf! 
This activity is prohibited for pregnant women and people with reduced mobility.